HELVETICUM-PARC, A PROJECT FOR 2001
An innovative concept in order not to miss another promising step ahead. The future belongs to telecommunications, to interactive television, to Internet, to teleshopping, to telejobing. The question is: where can we inform and orientate ourselves, where can we experiment, discover and use these technologies? If we fail to understand the importance of this topic, within 20 years Switzerland will have become one of the less developed country.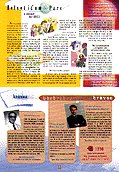 You have been made aware of the arrival of robots and the massive increase of the number of installations using such equipment. You have experienced the introduction of the cash-free wallet. The PC's are the longer the more considered to be a part of the household furniture. To understand tomorrow's world, we have to financially invest and invest ourselves into these new technologies. In Switzerland, we have no other choice. We are not in a position to hesitate. Expo 2001 is meant to catalyse this development. Precisely in 2001, the A1 motorway will be given over to the traffic, her course having already been defined by the Romans.
Our civilisation is given to "stop & go" behaviour. All our actions are characterised by this formula. We take the road to stop at the next service station, at the theatre or at the restaurant. We chase ourselves through life and immediately stop, if our cellular telephone starts ringing. We rush through our leisure time just to enjoy the moment after the effort. We rush down the skiing fields to meet at the hotel bar. How shall we live tomorrow? Telecommunication will no more be stopped!
The hart of the project
A transit point, for example a motorway restaurant, a big shopping centre, a sociable place to welcome visitors, open to the rest of the world. There, the visitor and his accompanist will find an access point to all kinds of services, available on a communication network. He will have the opportunity to connect his lap-top, his cellular telephone or use peripheral equipment installed in the centre. A code, a chip-card or even free access will open the local or distant world to him. Today, all these services already exist. They just need to be interconnected on a network and shared by everybody.
The compunication (computer and communication) area
The Helveticum-Parc, aperitif to the project, the first interactive entertainment park in Switzerland is going to be a place of exchanges, giving access to all types of services available through fibre optics. Already today, there is no technical limit to it. You just have to use the available technologies. Here for example some suggestions: Telebanking - Tourist'info - Business'info.
Narcisse Niclass